Green Model Phasing in for Brick and Mortar Students
Green Model Phasing in for Brick and Mortar Students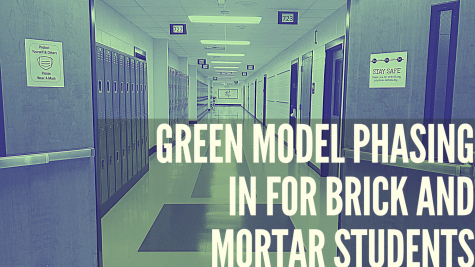 Sorry, there was an error loading this poll.

On September 18th, the Fayette County School system sent an email blast informing the school community that the green model will be phased in for brick and mortar students, starting September 28. Two grade levels at a time will return to school four days a week until the green model is entirely integrated into schools by October 26th. 

"Students will gradually return by grade level for face-to-face instruction for four days a week until the hybrid model is completely phased out on October 26. Wednesdays will continue to be used as a "flex" day for sanitation, teacher planning, and virtual support until students are back to a five-day per week schedule," the email to parents said. 

Sixth graders will start the new schedule starting September 28th, seventh-grade students will start October 12, and eighth-graders will start on October 19th. Starting on October 26th, the schedule will become face to face school 5 days a week. 

"I feel we should continue with the hybrid model through the first semester.  Students and teachers have adjusted to this technique of teaching and learning and are much more prepared to succeed with the hybrid model," Julie Barry, a JC Booth teacher, and parent, said. 

Teachers have configured their content to a digital platform so that students can access their assignments online. Students with modified learning patterns, based on their time working from home, may find a switch back to full-time face-to-face learning difficult. 

"I think the hybrid model is working well. Especially if it's keeping our children, teachers, admin, and all faculty safe. I think the numbers are low because we have been following the safety protocols. If we throw everyone back together, even slowly, I feel like we will be setting ourselves up for failure," Brandy Roop, a JC Booth parent, said. 

The hybrid model is what everyone in the Fayette County school system has been using since the beginning of the year. With 50% fewer students in the building on school days, social distancing has logistically been easier to maintain. With A and B group students together each day in school, some parents doubt how safety measures will be upheld. 

Schools will need to house more students than they currently do, which means more opportunities for exposure. With many students moving around the school all day each day of the school week, COVID-19 cases may increase. 

"I am in favor of 4 days, but not 5. Also, Brian Anderson [a Fayette County board member] has stated he will be pushing for masks to be recommended, not required when the time is right. I don't think that should be a thought right now. I am also very concerned, as FCBOE has stated there will not really be reduced class sizes or social distancing," Je Kallas, JC Booth parent, said. 

The hybrid model has been a big change for many teachers and students. The preventative measure for keeping students and staff safe has been in use since the start of school in August, a total of 5 weeks. 

"It was overwhelming at first, but I feel like I am kind of getting the hang of it now. As difficult as it has been planning and teaching both in person and virtually, I do believe it worked as intended in preventing the spread of COVID 19,"  Dara Williams, a JC Booth teacher, said. 

"As a teacher, it's frustrating that schoolwork is not getting done at home the way it needs to.  It's forced teachers to use additional class time to go back and complete work," Jeff Thompson, a JC Booth teacher, said. 

Though the hybrid model may have been helpful in some ways, some people feel there are negative aspects. Teachers have been relying on students to get their work done on time, as they are not there to monitor the students' progress or help them with any issues. Without 5 days of class time to work on assignments, some students' grades have taken a hit.  

"A downside is I know that many students are struggling with time management and completing assignments while at home on their virtual days. Also, almost all of the students are really missing out on the social interaction they get at school," Heather Hulse, a JC Booth teacher, said. The time that students have to spend with others has also greatly decreased because of the hybrid model. 

"I definitely prefer the green model.  I think it's important for the students to be in class every day.  It will help teachers manage instruction, students won't have as much opportunity to get behind, and I think stress levels over missing/late work will go down," Jeff Thompson, a JC Booth teacher said. 

On the green model, teachers will be able to assess student progress almost immediately and will have more time to review a concept in class, as well as give verbal reminders to students about incomplete work. 

Switching to the green model will mean there will not be a Wednesday "flex" day planning and one-to-one instruction.  

"I am going to miss the ability to plan and collaborate with other teachers that the hybrid offered with open Wednesdays, but I prefer green because I believe it is best for the needs of most students and families," Sandy Edinger, a JC Booth teacher said. 

"During the phase-in and while operating on green status, face coverings will still be required for both students and staff. Physical distancing protocols will continue to the extent possible, and handwashing and other sanitization practices will remain a priority," the email sent out to parents said. 

In order to remain in green status while having more students in the school, we must maintain little to no spread of the virus. Proper safety measures must be a priority to keep everyone healthy.