Booth…Then and Now
June 16, 2020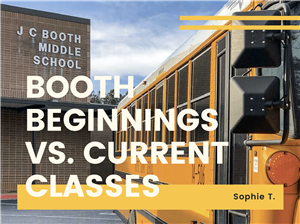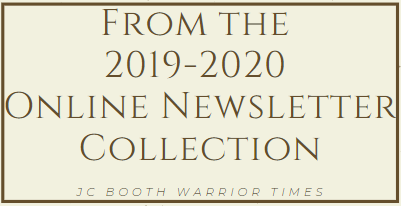 From 1979 to 2019, Booth Middle School has been through many changes. When Sara Goza opened this school as first principal, she could not have imagined all the alterations within the forty years Booth has existed.
For one, our school did not have as many grade levels as it has now. "It used to only be 7th and 8th grade here," current instructor of PA and PE, but former student of Booth, Coach Combs, said. The pods were also set up completely different from how they are now. Individual classes had names, such as 8C1, 6C5, or 7B3. "The classrooms in the pods didn't have doors" Ted Lombard, former Booth teacher and principal said.
According to Coach Combs, the pods were not green and white. They were yellow, red, and blue. "There was no cafeteria; we ate in the middle pod. They had to ship our food in for us to eat because they couldn't cook it here for us without a kitchen." Coach Combs also said. The kitchen and cafeteria for students were added to our school in 2003. "Some classes were not even part of the building of Booth since then," according to Ted Lombard, "There were 18 trailers positioned at the back of the school, in the bus loop and where the Aux Gym is located."
Also, the clubs, courses, and connections here at Booth have changed dramatically. "We didn't have Study Skills. We did have Latin," Coach Combs said. The program Study Skills, for helping students, has not always been a part of Booth. However, languages other than Spanish and French were taught. Booth had its own Wrestling Team, and a girls' softball team called the Lady Warriors (similar to the Lady Chiefs of McIntosh). Along with the girls' softball team, we also had many sports that we have currently such as track, football, cheerleading, volleyball, and basketball.
The clubs one could take at Booth have also been interchanged, as we used to have a Diagramming Club, an Anime Club, a Comedy Recitation Club, an FCS Club, and a Fitness Club. Home Ec did exist, though it was a club and not a connection like it is now.
The field-trips of Booth used to be far more distanced, once Booth had an out-of-country trip to Europe. This may have been something that the student council of Booth, which we no longer have, took part in deciding.
Our gym has also changed, from having a rubber floor to the floor material we have now. "The bleachers were a lot smaller, and were wooden." Coach Combs commented. Now we have metal bleachers, along with a track, which was yet another thing that Booth lacked years ago. The gym didn't always have air-conditioning; in fact, it was first added in 2004!
"Project Adventure is new since I went here as a student," Coach Combs remarked. The course that Coach Combs herself teaches did not exist when she went to Booth. The PA course was actually not cleared for the purpose it serves today. In fact, the area in which Project Adventure (PA) resides was first meant to be a softball field and was cleared for that reason. However, the softball team went away before the field could be built.
The gallery and 7th-grade annex (or West Wing) did not exist at Booth until 2003. At the time of Coach Combs being a student, there was no bus loop at the front of our school. The device for student communication before the Online Newsletter, or even Warrior News, but a student newspaper.
The school we currently learn and work in to help us connect with other students and our community has grown in an abundance of ways, and as have its students. However many times it is altered, J.C. Booth Middle School still plays an important role in each of our lives.